Welcome to our kitchen!  Today I will show you overview pictures of the room.  The rest of the week I will uncover special custom features throughout what people refer to as the heart of the home.
The first two pictures are an aerial view from the breakfast area.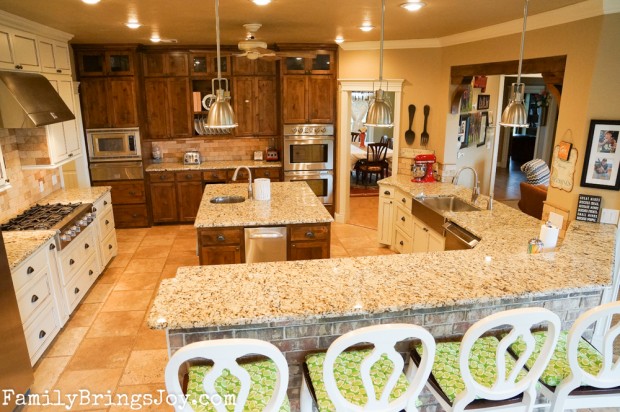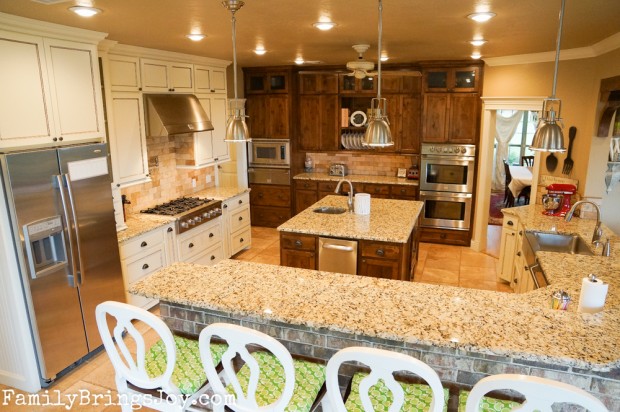 Hubby wanted a big kitchen because he likes to cook.  The kids have taken on this trait, thank goodness.  (I don't like to cook. I occasionally like to bake)
The next three photos are looking into the kitchen from the living room.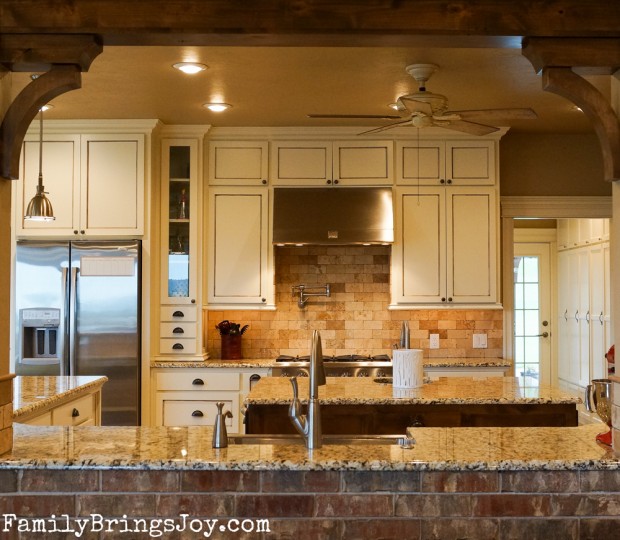 To the right you can see the lockers in our mudroom.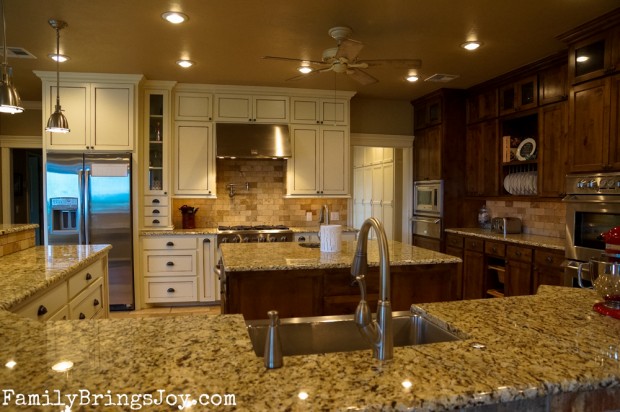 To the left, behind the bar, where the flag is…is the breakfast room.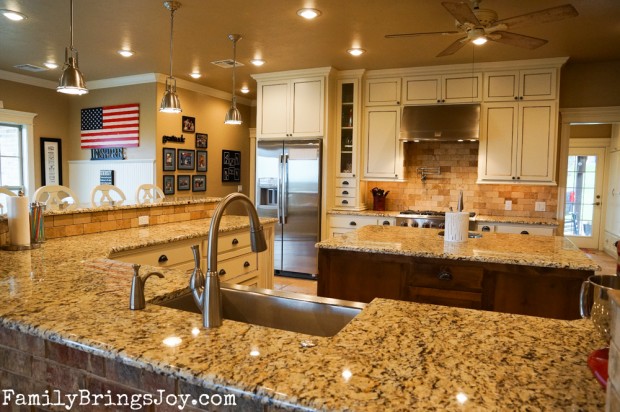 The next 2 photos highlight the island which includes lots of storage and one of my favorite appliances…the trash compactor.
(which is actually not shown from these views…oops!)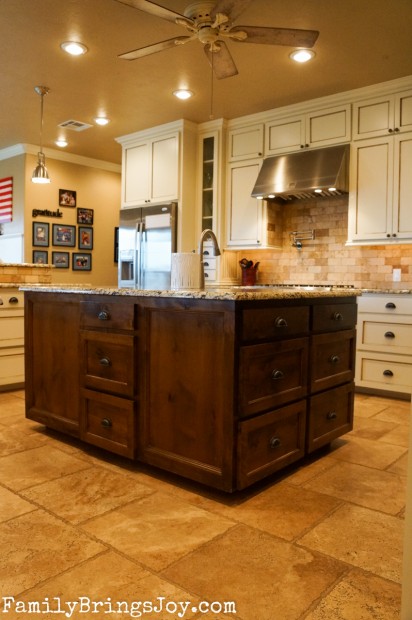 The small sink in the island is what they refer to as a vegetable sink.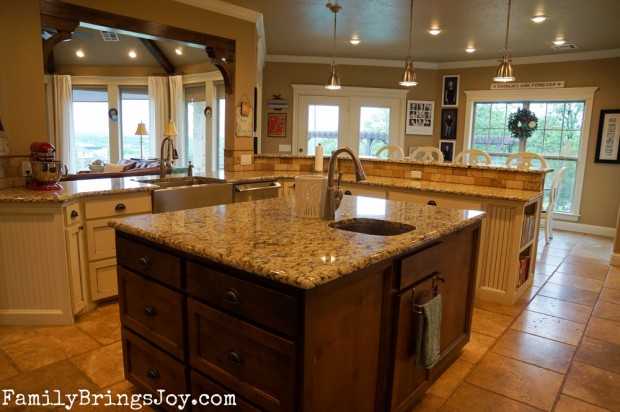 Our inspiration kitchen had white and brown cabinets.  Yet they had half the cabinets white and half brown (knotty alder.)
Hubby didn't like the look of half & half on the same wall.  Instead, we compromised with a full wall of brown and a full wall of white cabinets.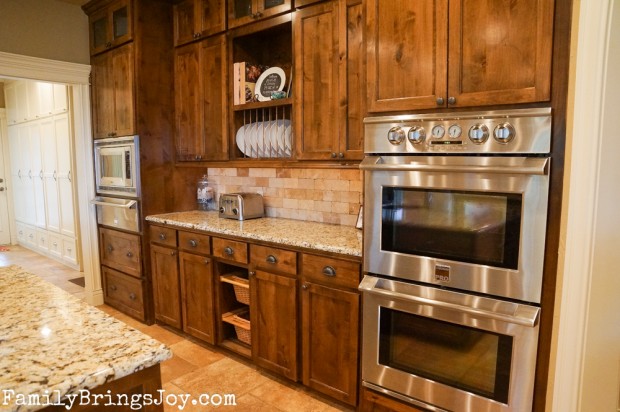 I wanted to use every inch of the wall for storage.  I see a lot of kitchens with space above the cabinets.  Me, being the practical girl that I am, wanted to use that space for storage.  I really don't think you can have too much storage.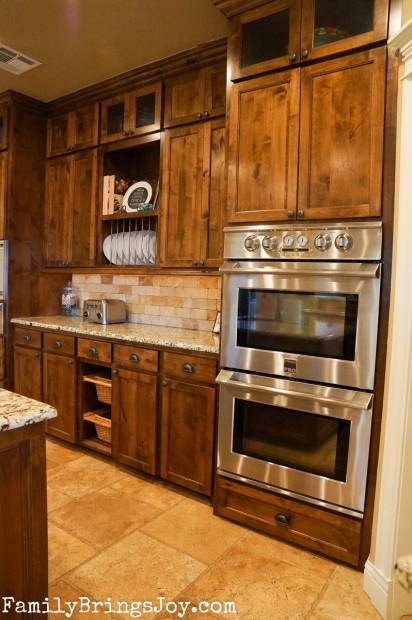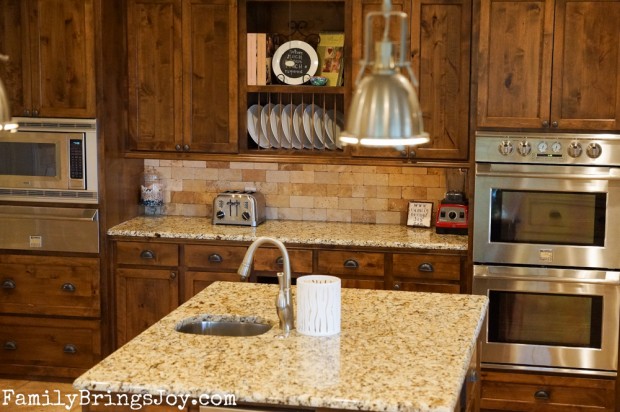 The appliance under the microwave is a warming drawer.  It is so handy!  I use it all the time to keep our food warm while cooking.  The hubster is quite particular about his food NOT being cold when we sit down to eat.  It's perfect to keep pancakes warm when you are making a bunch.
You can see the top of the trash compactor in the island from the below view.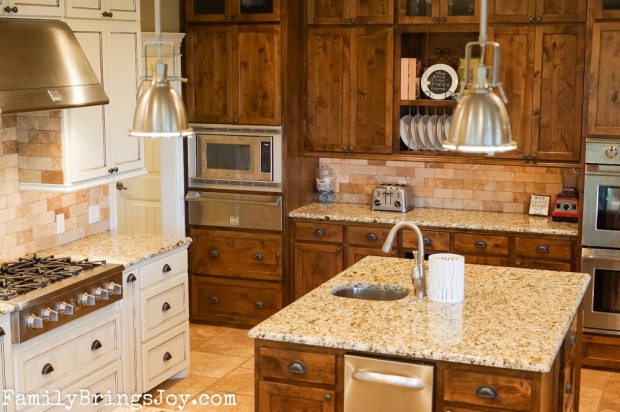 I'm pretty much a minimalist when it comes to having things on the counters.  When the counters are cluttered I can't focus…another one of those ADD things.  Plus, I've never mastered the art of staging pretty vignettes in the kitchen.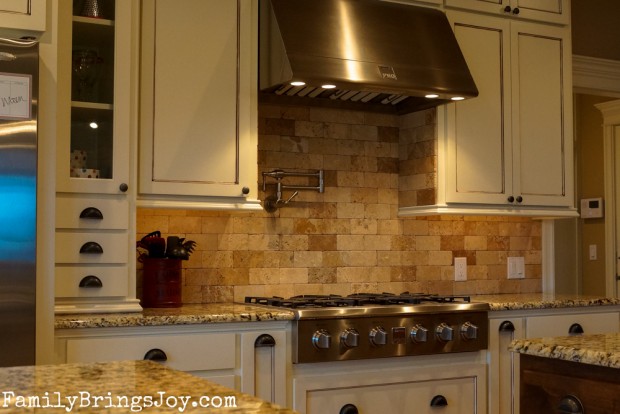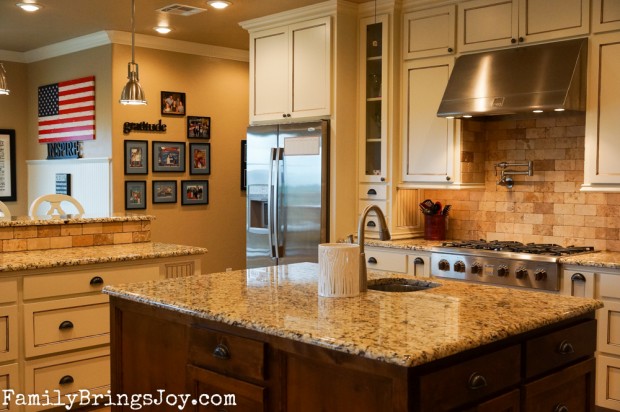 Hope you enjoyed this tour of our kitchen.  Come back every day this week to see extra special organizing features of this kitchen.  You can ask questions in the comment section.  Leave a comment by going to the top of the post and clicking on "leave a comment."  I ALWAYS LOVE to hear from you. 🙂  Now it's time for me to clean the kitchen again.  Monday is kitchen deep cleaning day.  Keeping a house clean while it is on the market for sale is definitely not my idea of fun…however, I LOVE a clean kitchen!  Don't you?
Kitchens bring joy,