I'm running again!
It's a good thing, because I can't fit into any of my clothes. I can't stand going shopping for new clothes if I have to go up a couple of sizes. Boo!  I don't care how cute the outfit is, if I have bigger hips or thighs or whatever…it doesn't look good on me.
Weight gain doesn't usually make for the best of running circumstances. It's harder to run pulling that extra weight along. But, I have some helpful strategies I'm using I thought I would share.
Run when it's cooler.

 You might be thinking duh! Well, it makes a huge difference. It was in the 60's this morning and it felt heavenly! The hotter it is, the more difficult the run…at least for me.

MUSIC!

I'm going to share a few of my Pandora stations I've been listening to lately that carry me through: Alternative Endurance Training Radio, Dance Cardio Radio & Summer Hits 2015 Road Trip Radio.
Young Living's NingXia Nitro! This dietary supplement has become a staple in my home. Nitro contains naturally occurring caffeine and Bioenergy's D-Ribose to support athletic performance and endurance. Bioenergy Ribose supports physical performance, recovery and increases overall energy reserves. (These statements have not been evaluated by the Food & Drug Administration. Young Living products are not intended to diagnose, cure, treat or prevent any disease.) Speaking for myself, I know it has helped me with my running among other things, but for this post we are talking about running/exercising.
Young Living's Fitness Oil. The INFUSED Fitness™ Inspired by Oola essential oil blend has been specially formulated to uplift, energize, and give you the inspiration to set and achieve your strength and fitness goals. I added a roller ball to this oil bottle. This way I can roll it on quickly before I leave the house to go to the gym or run outside. I've seen a difference when I use this oil.

Have a mantra.

Today's mantra was "I can do all things through Christ who strengthens me." Sometimes it might be "I think I can" repeated several times.  It's good to have a mantra to recite when you feel like stopping. When I recite my mantra in my mind over and over while running, it helps me pull through times when I want to quit.
It's difficult mentally when I remember how I used to be able to run many miles without stopping. Running is easier when you realize mind over body matters quite a bit. I was happy when I was able to run a certain path without stopping today. It's good to celebrate small milestones along the way. I'm telling myself, if I could do it once, I can do it again. Good self talk and praise is very important to keep you going, not just today, but for many days of future physical fitness.
Over the summer, I had the opportunity to go to Young Living's yearly convention. Something presented to me in that convention has changed my thinking about daily exercise.  A doctor, Olivier Wenker, asked: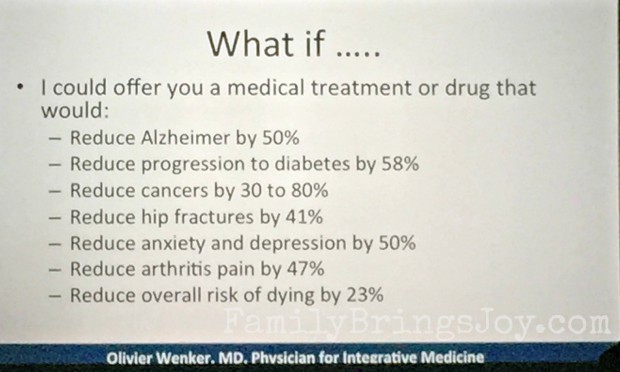 Yes, I was at the end of my chair wanting to know the answer: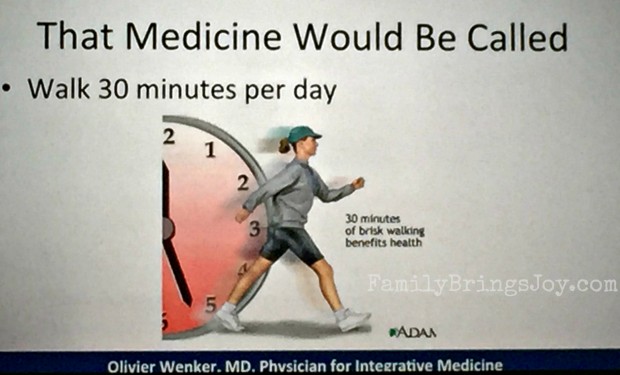 Ta da! Isn't that awesome?!  So on the days I'm not running much, when the majority of my exercise is walking, I don't feel bad. I'm doing something very good for myself. Hubby always says, "some exercise is ALWAYS BETTER than no exercise." So even if I'm not losing weight or inches, I am REDUCING Alzheimers, progression to diabetes, cancers, hip fractures, anxiety & depression (big one for me,) arthritis pain, and premature death.
Otherwise, I love the following graphic I found on pinterest: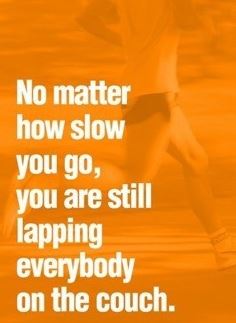 P.S.: You can read all my posts about running by clicking on the category to the left sidebar (towards the top) called "Running Brings Joy." 😉
P.S.S.: You can purchase Young Living products through me by going to www.youngliving.org/fbj44 or click here to be directed there.
Walking & Running Bring Joy,