I've been waiting for over a month to post photos of our new pergola and outdoor living areas.  Unfortunately, the brick layers are not done with the outdoor fireplace.  I decided I'm tired of waiting.  I'm bringing you the reveal today.  Drum roll…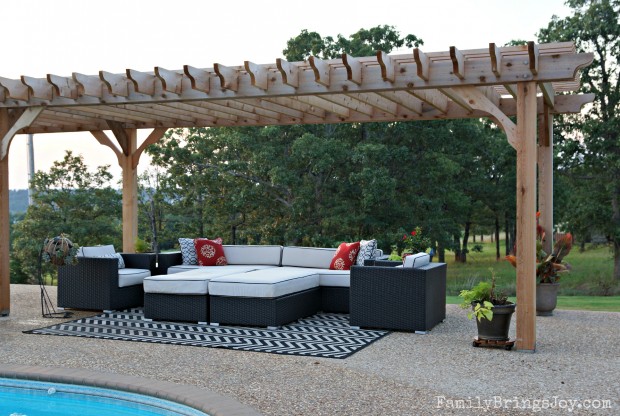 I'm very pleased with how this space has turned out.  Now I wish I could show you a before photo.  I'll have to put that on my to do list.  But for now, picture the entire slab of concrete by the pool completely empty for over a year.
I bought the pergola from Average Joe's Pergola Depot. (Here I go again giving free advertising…way to go Shan, you should've asked for a discount or something)  They have the best prices on the web for pergolas.  The name of our pergola design is The Big Kahuna.  It still needs some stain.  The wood is cedar, but it's already lightened up a bit since we bought it in May.
The black and white chevron rug (7′ 10″ x 10′ 10″) is from Ballard Designs.  The rug (indoor/outdoor) has held up beautifully.  We've had lots of rain this summer.  It still looks brand new.  I'm very happy with the quality.  Can't wait to show this photo to the lovely people from Ballard Designs at Haven Conference this week!
The furniture came in a set from Lowe's.  I wish I could have chose a color for the cushions.  I like the white cushions, yet they show dirt pretty easily.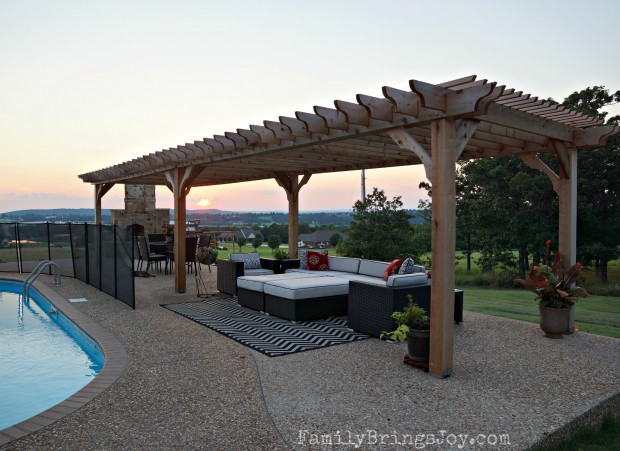 Here (above) you can see the full pergola and the partially done fireplace.  Sorry for the fence in the photo.  Whenever the fireplace is finished I will take a photo without the fence.  The fence normally goes around the entire pool.  We took part of it down for the 4th of July when we had friends over and haven't put it back up yet.  I was happy to get a shot with the sunset in the background.
Now we have a sweet place to hang out with some shade.  What do you think?
Home brings joy,