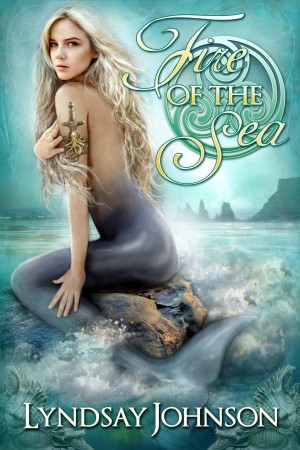 Are you looking for a good book to read?
Do you like fantasy as much as I do?
Or maybe you want to change genres to spice things up a bit for your leisure reading?
Well, then I have just the book for you!  It is called Fire of the Sea
and it was written by one of my very special friends, Lyndsay Johnson.  Her book is being released TODAY!  I'm about to buy my copy.  Lyndsay sent me the first chapter to review last June and it is already published!  The fact it went through the editing and publishing process so quickly proves it to be a winner to me!  Besides, who doesn't like mermaids and romance?  The following is the synopsis you will find on Amazon.
Sharp, sleek, and golden. Like the dagger she has worn since childhood, eighteen-year-old Aeva is all three of these things. But there is something else that this mermaid and her prized weapon share – they are both hunted. Hidden within the caves off Iceland's dark shore, Aeva waits to take her place as the next ruler of the Mermaids. But when Aeva uses her potent and alluring song to save a drowning human, she disrupts a delicate balance. Realizing she has unexpectedly bound herself to Gunnar, Aeva is torn between duty and love. Aeva severs one life to begin another, and soon finds herself not only rejected by the sea, but also stalked by an old enemy. As the worlds of myth and man intertwine, Aeva will challenge fate to protect her own sacred relic and the man she loves. But legend and lies cast an intricate net. With time and safety quickly unraveling for Aeva and Gunnar, there is only one clear course: Find and defeat Delphine before she can shift again.
Lyndsay also has THE BEST book trailer video I have ever seen:
Fire of the Sea by Lyndsay Johnson (Book Trailer) from Lyndsay Johnson on Vimeo.
Get your copy today by clicking the link below.
After I order my copy I will be taking my Son, the middle child, to get his driving permit.  Yikes!  Oh the grey hairs having 2 children driving will produce.  Wish me luck and PRAY HARD. 😉
Books Bring Joy,