I've been on this earth now for 45 years.  It's surreal.  I'm kind of having a hard time with that today.
It's not really because I'm closer to 50 than 40.  It's not the age thing.  It's the lack of celebrating thing.  I like Birthdays.  I like to make birthdays special for the people around me, because it's not supposed to be just an ordinary day.  It's the day you came into this world.
When I was a kid, my parents held birthday parties for me.  I got a special cake, invited my friends, opened gifts.  As I got older, we would always at least have a family party of some kind, even if it was going out to eat at a restaurant.
As an adult, my birthdays, a lot of times, are just like any other normal day…especially if they are on a week day like today.  This morning my Son remembered and said Happy Birthday first thing when he saw me.  That was pretty special, as he didn't really say Happy Mother's Day on Mother's Day.  I'll cut him some slack since he just had broken his arm and wasn't feeling well.  My youngest Daughter did her normal, I'm not a morning person yelling at me this morning before school.  She was actually a little stinker.  Right as she got out of the car for school she says, "Oh and happy birthday," with a snarky tone to her voice.  Lovely.
No balloons or banners for Shannon. Nope.  Hubby was on call last night and not home.
For some reason there is tradition that we don't open gifts until dinner time.  Well, I might have to break tradition today and go ahead and open the gift my mom sent, alone. Me. Party of one.
I guess I've learned I haven't made good enough friends here to invite me to go have lunch for my birthday.  That stings.  I could have asked someone, but things have been a little crazy in our life.  I will have to explain about that later.
So I sit at the computer soaking up every one of the birthday wishes I have received on Facebook.  Thank goodness for Facebook on Birthdays.  It's really the only way people would know my birthday.
A few years ago one of my friends surprised me with a huge banner in the front of our yard that her kids & she made.  That was super awesome! (Thanks again for that K!)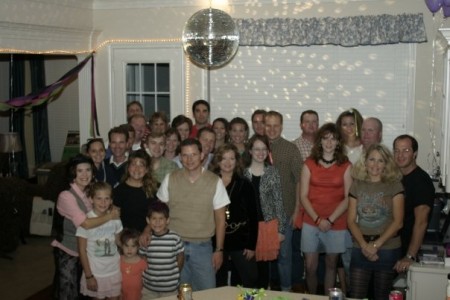 One year I thought to myself, "I'm going to throw myself a birthday party."  And I did.  I was turning 36.  We were about to move from Tyler, TX to OK. It was kind of a goodbye/birthday party.  I decided to make it an 80's themed party.  It was a total blast!  One of the best birthday parties I've ever thrown.  This morning on my walk around the neighborhood I decided when I turn 50, in 5 years I'm going to throw myself another birthday party.  It's going to be big and hopefully make up for all the lonely & uncelebrated birthdays in between my 36th birthday party and my 50th birthday party.
I'm going to tell you a secret…I've always hoped someone would throw me a surprise party. To me, the surprise party is the ultimate in knowing you have friends and they care about you.  I've given up hope that is going to happen.
I ran into one friend while I was out walking this morning and a different friend called me. Neither one of them wished me a happy birthday.  Guess they haven't been on Facebook.
It feels like I'm not special enough to celebrate.
This whole post feels awful.  I'm just being a sulking, selfish, crabby pants.  But this is how I feel.  And this is my blog…and I can whine if I want to. Guess I'm hoping it will make me feel better to get it out, but as I read back over it, I feel like someone will judge me and think bad of me.  I don't think too many people read my blog anymore so it won't matter.
Connecting with people is important.  Celebrating people is important.  Why do birthdays have to be this way for adults?  I've heard people say most of my life, "birthdays aren't fun anymore when you're an adult."   I've also heard, "Birthdays are for children."  But why is that?  Why can't we celebrate we've lived as long as we have?  Why wish any adult a Happy Birthday, then, if it's supposed to suck?
And one more thing.  Have your kids make an effort for your spouses birthday.  I remember my Dad taking us to the store and having us pick out a gift and card for my Mom for her birthday.  It truly isn't the actual gift that matters, it's the thought behind it…seriously, I'm not trying to be cliche. The act of DOING something for someone you care about.  It's a way to show you care about that person and think they are special.