1. The Disney Character I'm most like is Jessie from Toy Story.
There's a place in the California Adventure park where a computer asks you a bunch of questions to see what character you are most like.  Turns out I'm most like Jessie.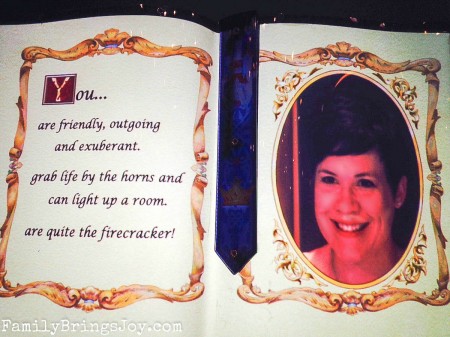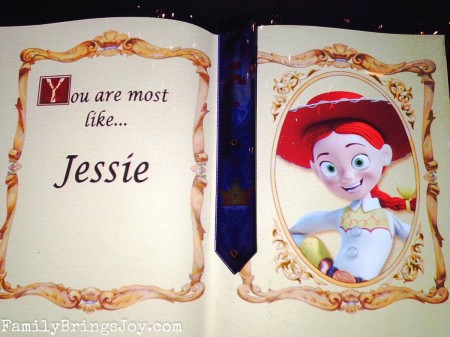 I found this info out AFTER we met Jessie.  If I would have known of my special kinship, I would have gotten a photo with her too!  Below Jessie signs my daughter's autograph book.
2. There are special cutting artists on Main Street of Disney Land who can cut your silhouette by hand.
You might not think this is cool, but I do!  The lady who cut my kid's silhouettes has been working this craft at Disney Land for 40 years!  I could not believe my eyes as I watched her.
3. If you feel something in your hair at Toon Town in Disney Land, don't pull it out of your hair…it might be a bee!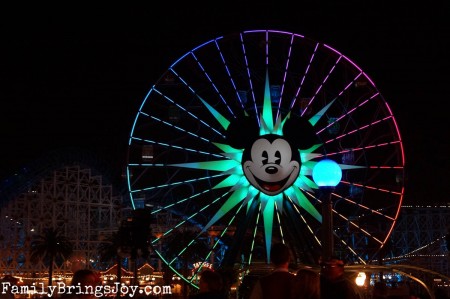 Yep, this happened to me.  I felt something in my hair.  I pulled it out of my hair to find a bee.  As soon as I figured out what it was I let go of it…too late…it stung me.  I haven't had a bee sting since I was 4 or 5 years old.  It's pretty painful.  We found the first aid station and they had some good numbing gel for it with an ice pack.  Thank goodness!  For future reference, if anything like this or any other unfortunate accident occurs while you are visiting Disney Land, tell the nearest cast member (worker) and the nurse will come to you.  We had to walk a little ways to get to the first aid station.  The nurse told us she could have came to us.
4. Spending money on an experience is completely worth it! (I already knew this)  In this case it was the Bibbidi Bobbidi Boutique in Disney Land.
This was my daughter's chance to be prettied up like a Disney princess.   The sweet beautician treated her like royalty doing her hair, nails and makeup.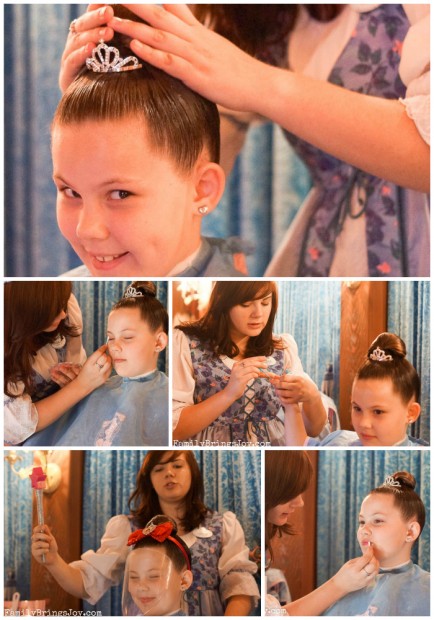 Daughter was able to choose what dress/princess she wanted to be.  At the end of the beautifying process they open the curtains you see behind her.  A special mirror is revealed with animation and music. (I wish now I would have taken video)  Here she is…Snow White.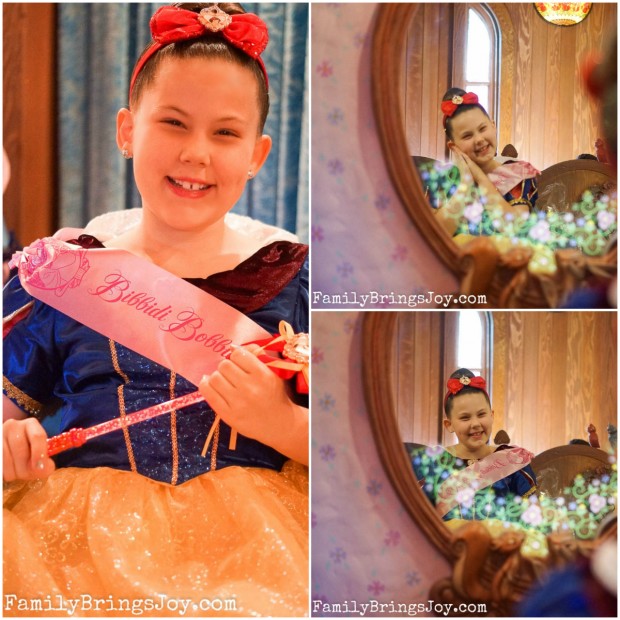 Next included a photo shoot in Cinderella's carriage!

Isn't it gorgeous?!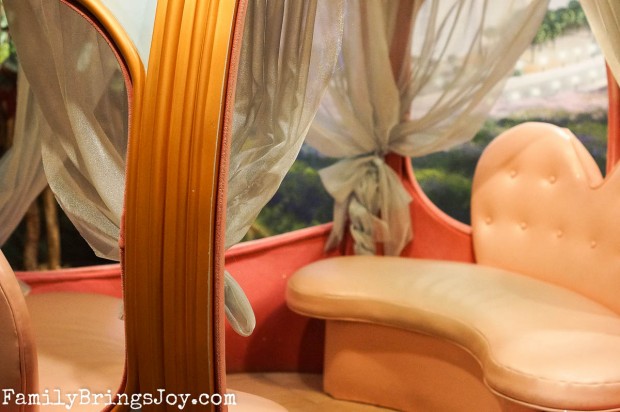 The photographer let me take a few photos with my camera.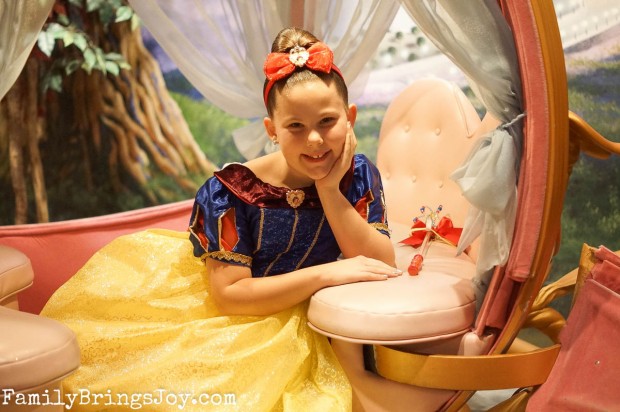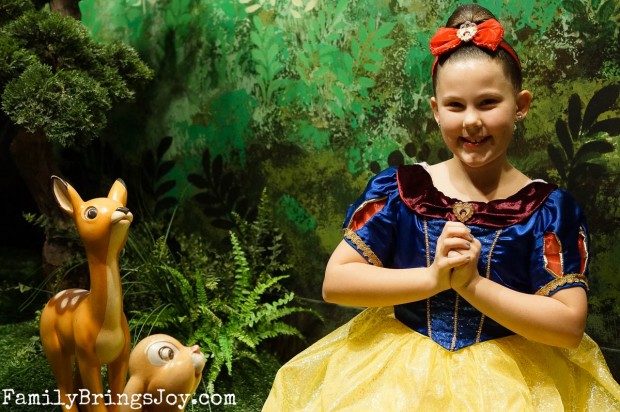 That's not all…time to meet other princesses!  First is Cinderella.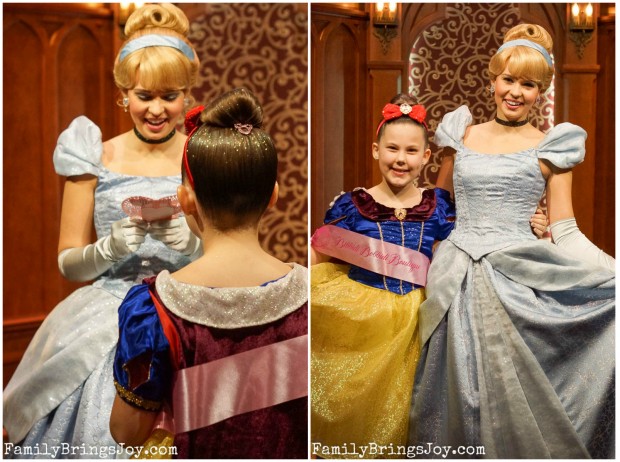 Another favorite…Ariel from The Little Mermaid.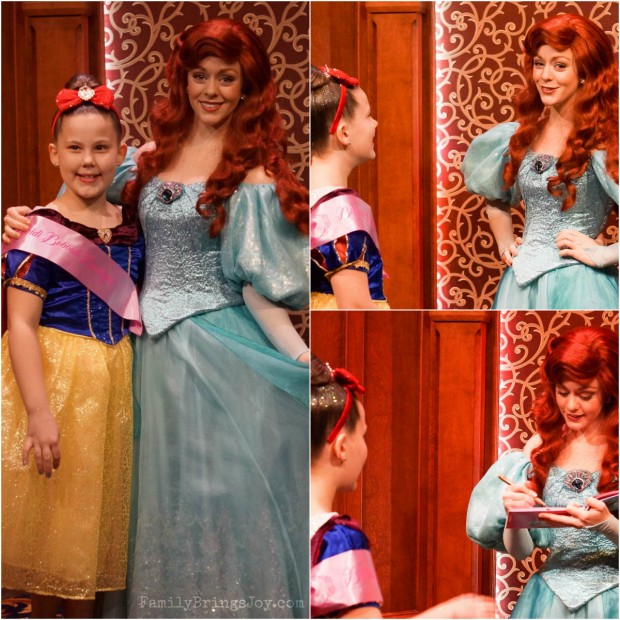 I am so glad we did this.  I will forever have this time etched in my memory…and more importantly I think it will be something she will never forget.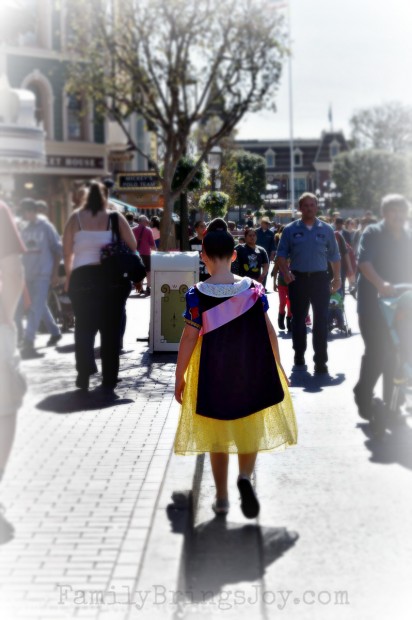 5. I don't like roller coasters, crowds and kids who complain about wait times.
I used to like roller coasters when I was young.  As a matter of fact, I would purposefully ride in the very front and put my hands in the air.  Not anymore…it's another sign of me getting old.  Boo!  I got motion sick riding Space Mountain.  I hate motion sickness.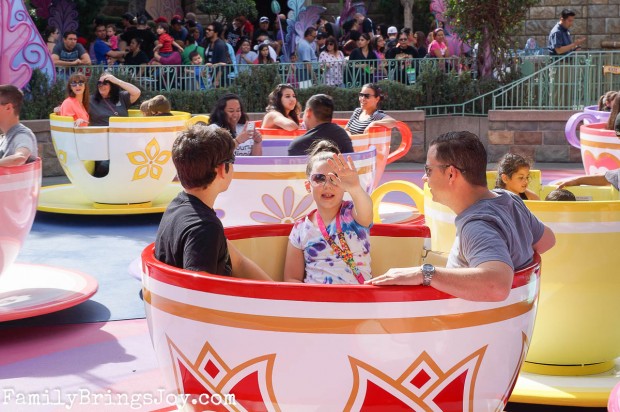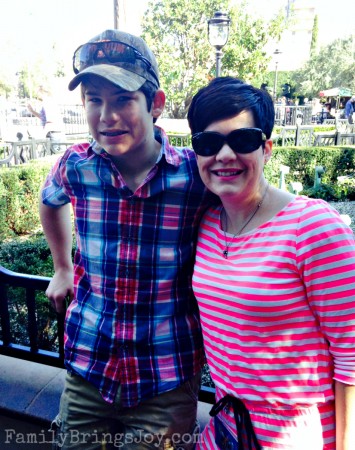 I thought going in February was a good time to go to Disney Land…meaning less crowded.  Turns out Valentine's Day/President's Day is a popular time to go.  I mean honestly, we could hardly walk through the parks.  Thursday was the least crowded of all the days of the weekend.  I'm so glad we took the kids out of school that day.  Disney Land was more crowded than California Adventure, yet I was very disappointed with the amount of people there.
If I didn't already know how impatient my kids are already, I do now.  Sigh…it was incessant whining and complaining about waiting in the lines.  Sometimes they wouldn't want to go on the ride if they saw how long the wait time was.  And let me tell you, most of the wait times were around an hour.  We learned to use fast passes as much as possible.  The last day we were there my daughter and I only rode one ride all day.  Instead, we went to lots of shows, which I love.
This was our first family vacation without our oldest daughter.  If you are a new reader, she's a college freshman at an out of state university.  It was weird not having her with us.  This is a different stage of life for all of us right now.  K, if you are reading this, know how very much you were missed.  We thought about ya while searching every shop for a plush Flynn Rider.  I'm sure there will be other Disney opportunities for us to vacation together in the future.
As Tigger says, "Ta ta for now!"
Disclaimer: I was not compensated in any way by Disney to write this post.
Disney Brings Joy,