What does your entryway say about your family?
Come see ours today…
If you are wondering what the white box is behind my tree, it's a glass break sensor for our alarm system.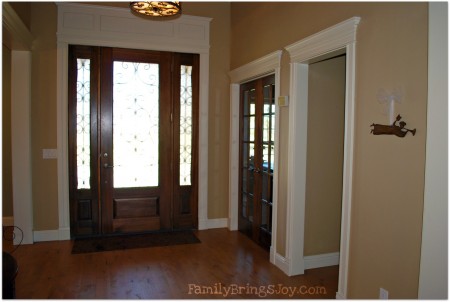 The knotty alder flooring is my favorite part of the entry way.
I'm excited to introduce a wonderful blog hosting our entryways for Roomspiration today.  Abode Love is written by a beautiful and talented woman from Alabama.  She offers e-design services.  After seeing her work you might be inclined to use her remarkable design services.  She's been featured in two magazine publications.  I am completely adoring her entry way today.  Here is a sneak peek:
Please go visit Abode Love see the rest of her wonderful entryway and link up your own entryways.  If you don't have an entryway to link up, share Roomspiration with your friends today.  They will be so glad to see the wonderful inspiration. 😉  The button below will send readers to Abode Love's Blog.  Can't wait to see everyone's entryways!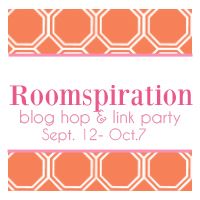 <div align="center"><a href="http://abodelove.blogspot.com/2011/09/roomspiration-linky-party-entryway.html" title="Roomspiration"><img src="http://i1218.photobucket.com/albums/dd408/lizzygal18/orangebackground.jpg" alt="Roomspiration" style="border:none;" /></a></div>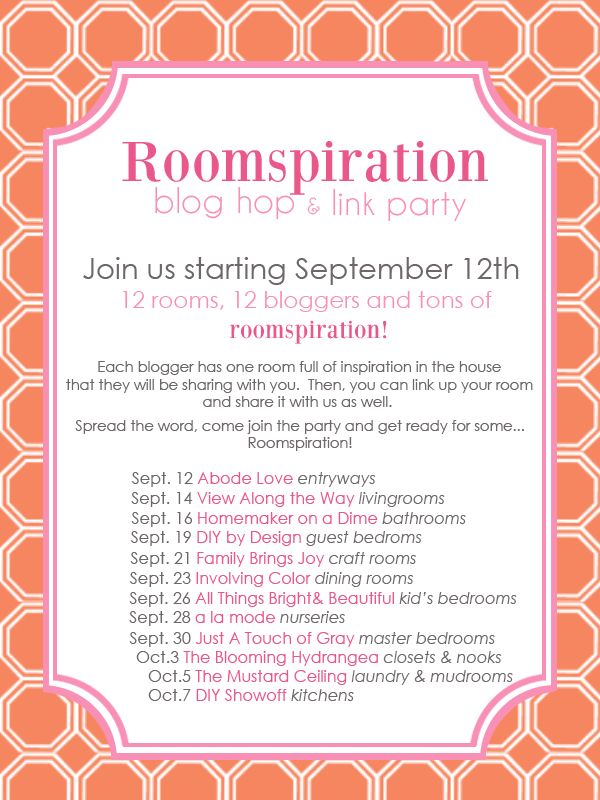 Blog Hop with us today,