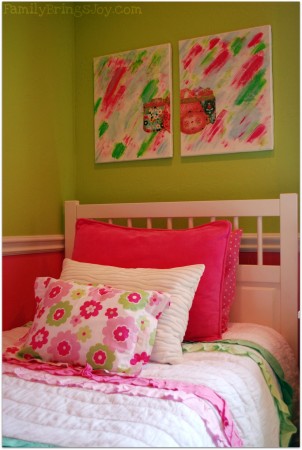 This morning I will be packing up my oldest daughter's room…technically not her room, her belongings in the room.  Now that she is in college, we promised our youngest daughter she could move in to the room.  I'm hoping this activity will not bring too many tears or emotion.  In essence all I am doing is switching rooms.  So it's not like my oldest won't have a place to stay when she does come home to visit.  But when she isn't here visiting, my youngest daughter's room (which will soon be my oldest daughter's) will be a guest room.  Are you thoroughly confused now?
I think I'm going to try and make this activity fun by transferring her memory board square items onto scrapbook pages.
Remember when I shared how we made her memory board wall? (you can see the original post by clicking here.)  Below was what it looked like not long after we installed it.  Now it is completely filled with photos and high school paraphernalia.  Those items will quickly transfer onto 12 x 12 scrapbook paper and be a perfect addition to her scrapbook.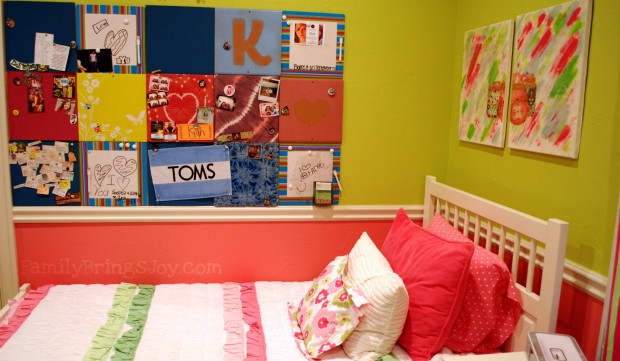 I'm so overdue for some craft therapy.  My craft room has mainly been used as a gift wrapping room since Christmas and I've been craving to get in there and do something creative.  Problem is, it's quite the mess!  Maybe now that I've finally put away the Christmas decorations, I can tidy the room up so I have a place to create again.  Speaking of my craft room…my very sweet best friend from Haven (Home Bloggers Conference) featured my craft room on her site.  Candace's post from her blog Vintage News Junkie is titled Top Ten Craft Room Makeovers.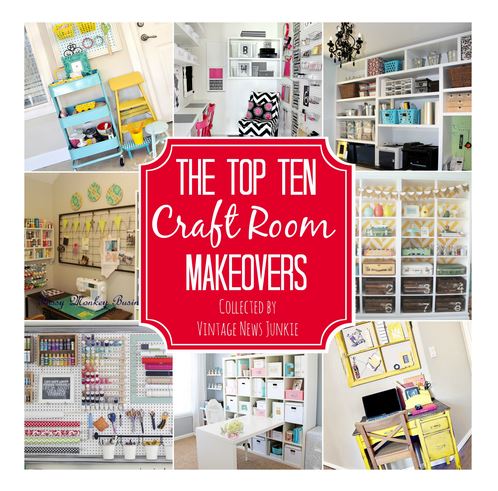 Candace has put together a pretty awesome collection of craft rooms.  I always love to see how people organize and decorate their hobby rooms.  Hop on over to her site and take a look.  I am honored my craft room was included…just so glad you can't see it now.  I'm not feeling too transparent to show it to you today.
Well, like my Grandma used to say, "I'm off like a dirty shirt" to pack up my oldest daughter's room. I can do this. I think I can. I think I can.
Happy Monday,