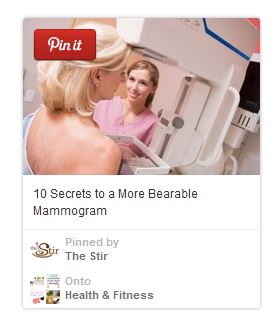 I've put it off long enough.  It's time.
This morning I'm headed to have my first mammogram.
Yes, I'm nervous.
I've been told you should begin having them at age 40.  I turned 43 on Monday.  How many of us procrastinate the things we don't want to do…or maybe I should say things that are painful?  Totally ME!
I came across a pin titled "10 Secrets to a More Bearable Mammogram."
I wish I read this about a week ago.  Some good advice.
I sure hope you have better plans in store for you today.
Wish me luck…
Be proactive,