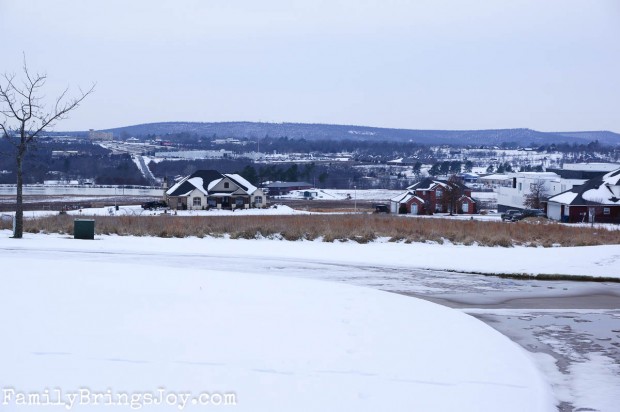 This is what our neighborhood has looked like for the past week.  As a matter of fact, we've had the most snow here in Oklahoma since we moved here 7 years ago.  We have snow at least once a year here, which is different from living in Texas.  This also means lots of snow days with the kids at home.  I'm pretty sure our kids will be in school until June this year instead of May.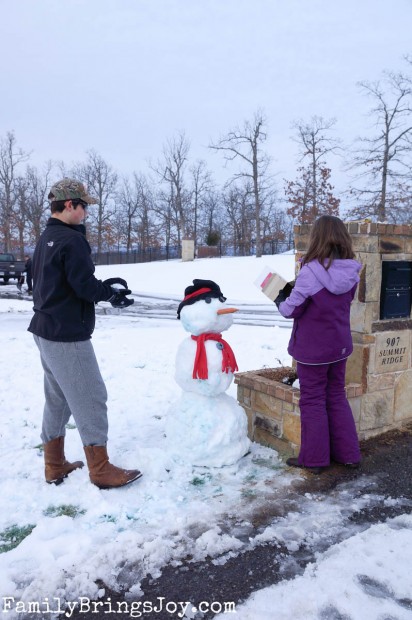 On Monday for Family Home Evening we built a snowman.  This was the biggest snowman we have ever built because the snow rolled very well.  You aren't seeing things if you see some blue on the snowman.  We had our lawn fertilized right before it snowed.  The dye from the fertilizer made an impression on the snow.  The box you see my daughter holding is our snowman kit from Land of Nod (not an ad.)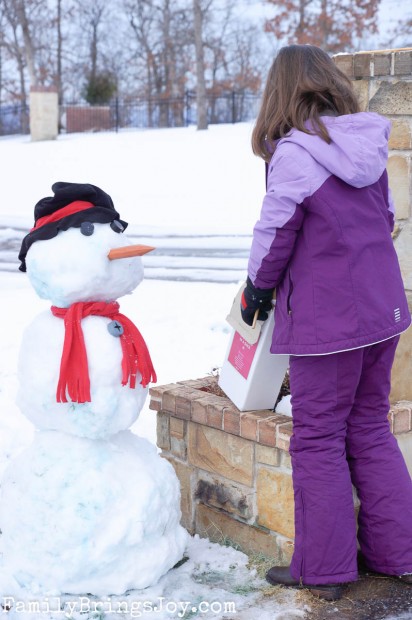 It's cool seeing the "same" snowman reemerge every time we build one.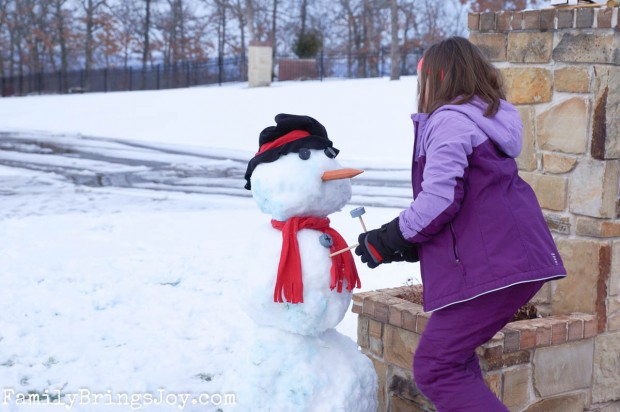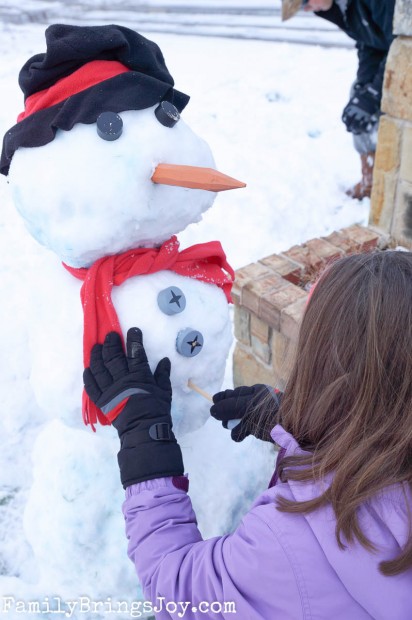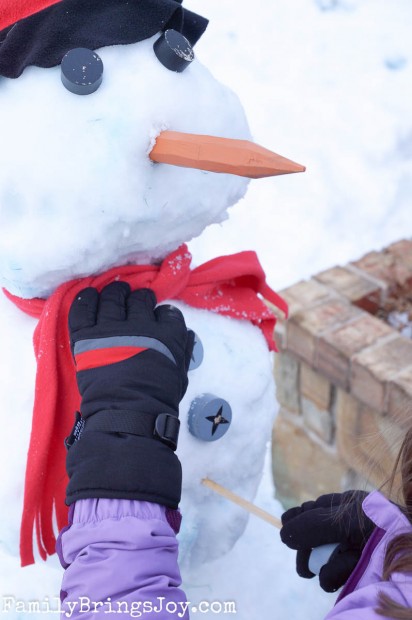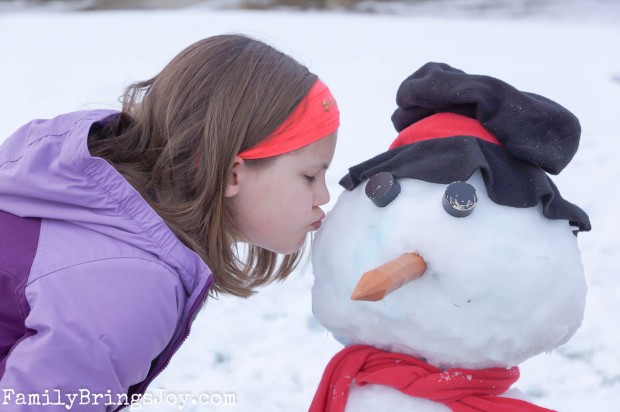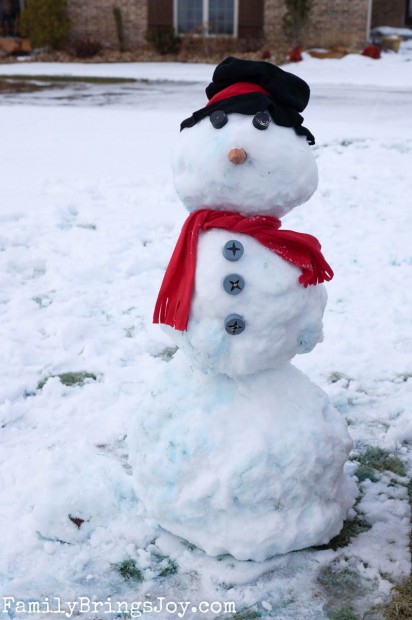 We made him right next to the mailbox so everyone can enjoy him as they drive by.  He always makes me smile when I drive up to the house.  We had more snow yesterday so he looks just like this still…alive and well.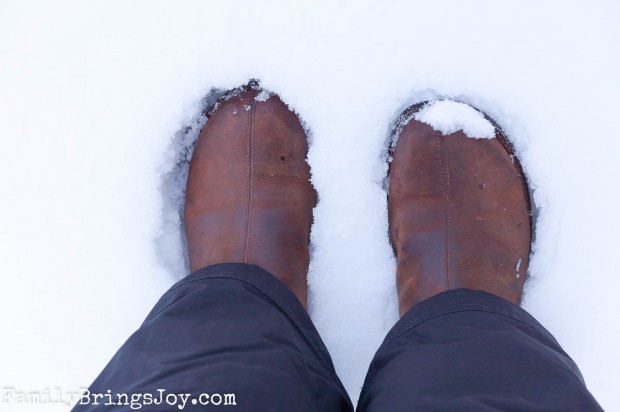 Our ski attire and boots have come in real handy for these snowy days.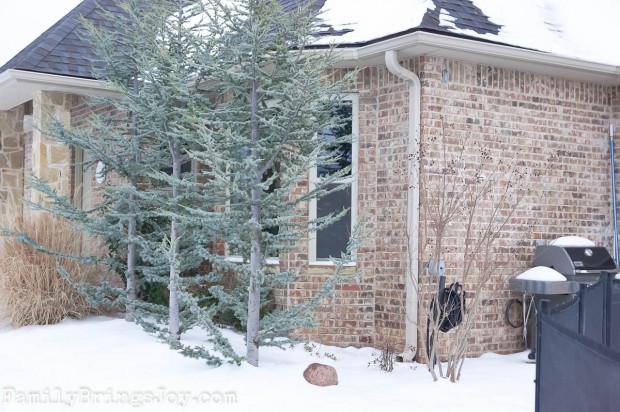 Here's our backyard.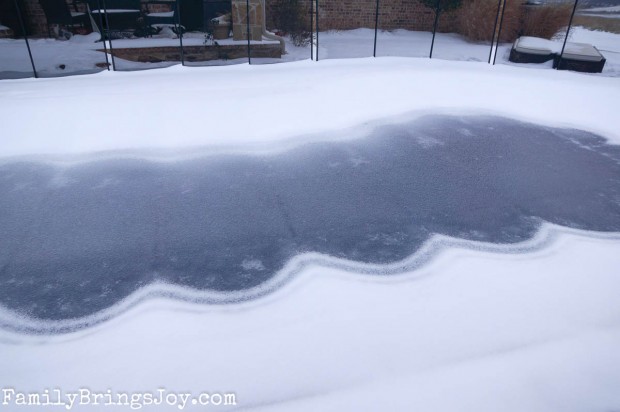 The pool could probably serve as an ice skating rink without the cover.  Not that we would ever do that. 😉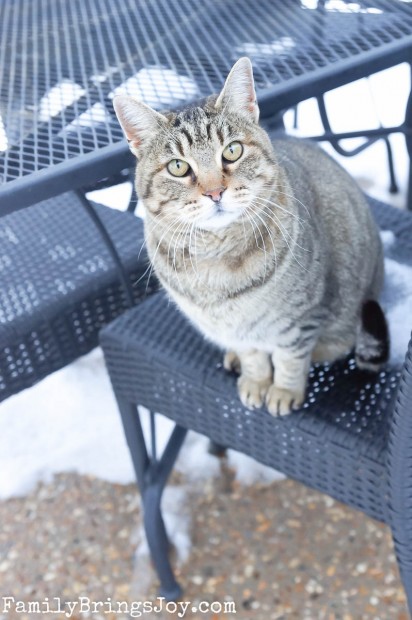 Here's our sweet outdoor cat, Daisy.  She's a little cold.  I love how her fur puffs up in the winter time.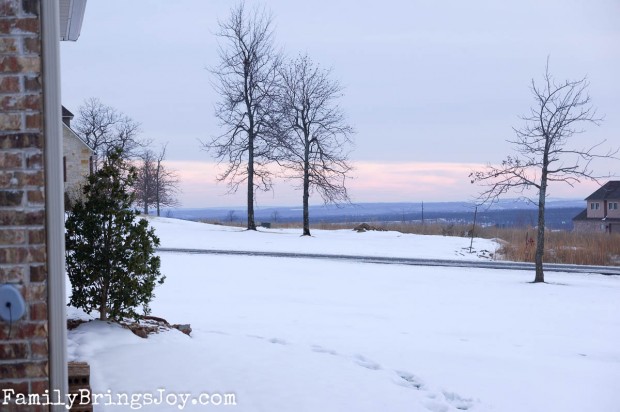 One of these days I'm going to learn how to do justice to a sunset in a photo…maybe.  Don't look at the boob on the house.  That's what we call those covers you put over our outdoor faucets so your pipes don't freeze. lol…not sure what their actual name is.
Have you had any snow this winter?  Has your family built a snowman?  I'd love to see yours too!
Hope this finds everyone staying safe and warm this winter.  I'm excited to share my Valentine's Day fireplace mantel with you very soon.  I've been creating away!
Don't forget to follow me on Instagram: @familybringsjoy and all the other social networking sites.  Buttons are on the side.  Oh and I finally figured out the plugin to use when I reply to a comment on my blog, it will automatically send you an email with that reply.  Before, I would answer questions via email and it wouldn't show up on the blog.  This is great because before I would have to copy my email reply and paste it on the blog.  It was a tedious process and sometimes I would forget to do it.  I don't want anyone to think they are ignored.  I also don't want visitors to NOT leave a comment because they don't think I will respond.  Comments are little gifts to us bloggers.  I APPRECIATE EACH AND EVERY ONE!  Thank you!
Snowmen bring joy,