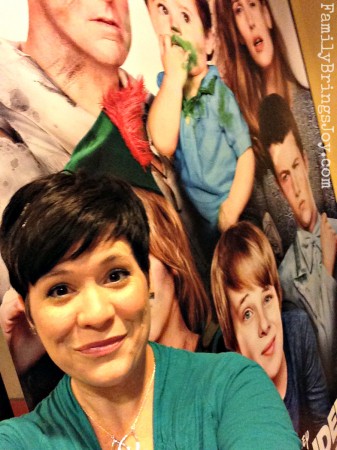 Saturday our family had the wonderful opportunity to screen the upcoming movie Alexander and the Terrible, Horrible, No Good, Very Bad Day.  That is a very long title for a movie.  Try to say that fast!  I will refer to the movie as Alexander for the rest of this post. 😉  Oh and in case you are wondering what the full movie poster looks like (since I couldn't squeeze it all in my selfie pic to the left.)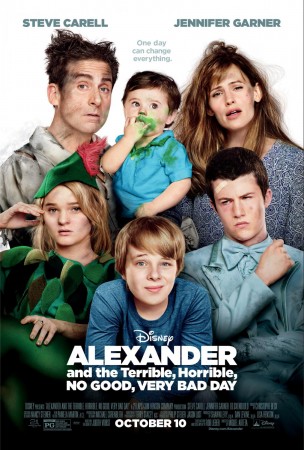 I'm always super grateful when there is a movie in which every member (our kids ages 16 & 11) of our family can enjoy watching it together.  Family values movies seem to be few and far between these days.  I watched the following trailer once before going to the movie.  In case you haven't seen it yet, here it is:
I wonder how many other moms might have cringed a little while watching the preview…wondering to themselves, "do I really want to pay to see a bad day?"  To be honest, I thought that.  Yet, I knew Disney would make it right and they did.  Alexander has something for every member of the family to relate and laugh about.  It turns out the movie is based on a children's book written in the early 70's by Judith Viorst.  If you liked Steve Carrell in Date Night then you will like him in this movie as well.  Steve plays Alexander's father.
"As a dad I can totally relate to this movie. Things tend to not go the way that you think they'll go. But there's always a contingency plan. There's always a backup. Things go wrong in life and I think that's part of the charm of this movie: Everyone experiences those days. It's all about how you struggle through and keep your dignity and your sense of family and fun and the kind of love that is pervasive between the characters in this film."  Steve Carrell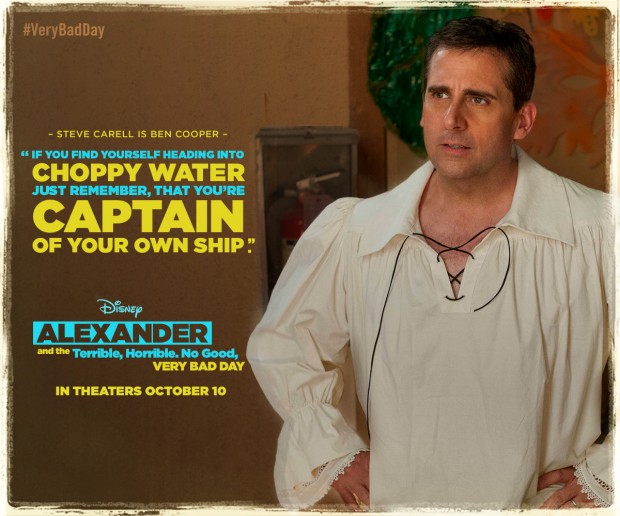 I am a huge fan of Alias, so I'm always excited to see Jennifer Garner.  I enjoyed seeing Jennifer play the mother roll in The Odd Life of Timothy Green.  She doesn't disappoint in this movie too.  It's interesting I brought up Date Night and The Odd Life of Timothy Green, because if you mix those 2 movies together, you can sort of sense how Alexander is (without the magic aspect.)
"I don't think I've ever played anything closer to my real life. Not that I have days as bad as this, but just days with the chaos of having a bunch of kids in the house—when there's a kid peeing on the floor, and the dog is throwing up and somebody's about to step in it, and you're trying to get dinner on the table. I can definitely relate to the idea of trying to do too much in a day."  Jennifer Garner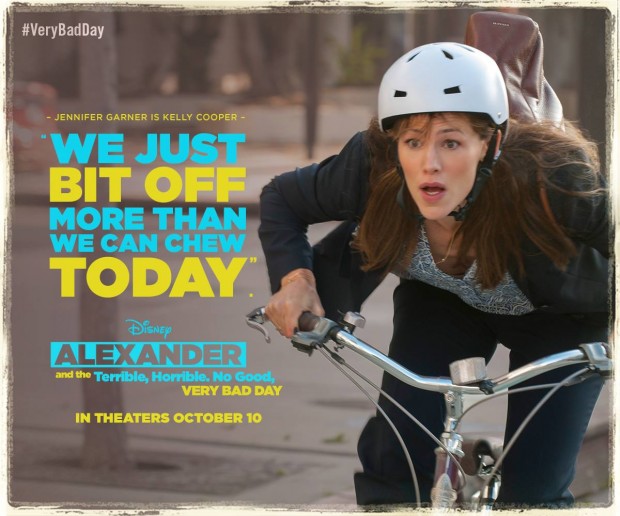 The family portrayed in Alexander does have a really bad day, but what I like is how the family deals with the bad things.  The Dad is an optimist and is always telling the children to hop on the ship of positivity.  Families can learn a lot from these characters.  My 16 year old son really laughed out loud during the driving test scene. He is about to take his driving test, possibly tomorrow.  I'm truly hoping it doesn't go the way this one did.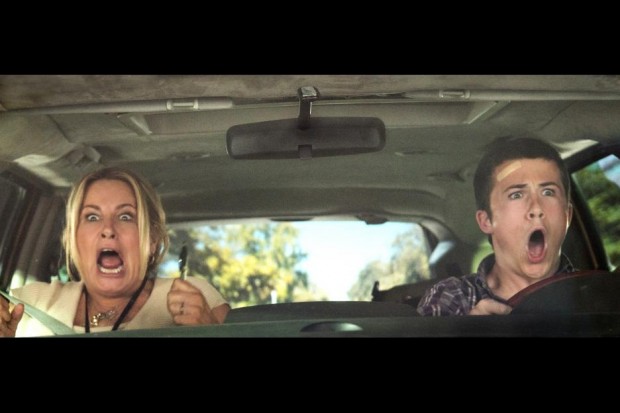 There were so many good quotes I wish I had written down while watching Alexander.  Most of them were said by Alexander.  The following quote, however simple, is completely true. "You gotta have the bad days so you can love the good days."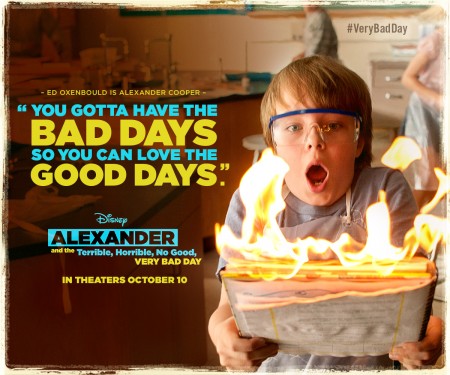 Alexander is a definite family values movie…a must see!  You won't be disappointed.  Let me put it this way…I don't like to buy movies or watch them more than once.  Yet when I left the movie I thought to myself, "We need to buy that movie when it comes out on DVD."  Bravo!  Well done!  Take your family to see Alexander and the Terrible, Horrible, No Good, Very Bad Day this weekend.
Just for you, my awesome readers, I'm including the recipe to Ben Cooper's Quiche he made in the movie.  Quiche is one of my favs.  Can't wait to make it myself.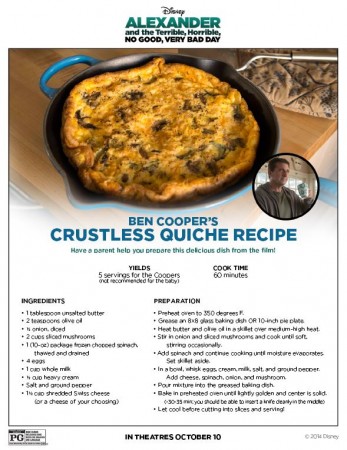 Click on this link for a PDF copy of Ben Cooper's Crustless Quiche Recipe
I will conclude with the Cooper family sitting down at the table for meal time…hope you're family is sitting together for meals. (You know how I feel about that)
Hash Tagged blessed,