This last weekend was heavenly. Many of my family members, including both sets of parents came to visit us this weekend.  I can't begin to explain the joy it brought me to have everyone here. I would find myself smiling as laughter wafted through the house.
The main reason which brought family in town was Alice…the one act play derived from Alice in Wonderland.  My youngest daughter has embraced my thespian side. She was cast as the Dormouse in this school play.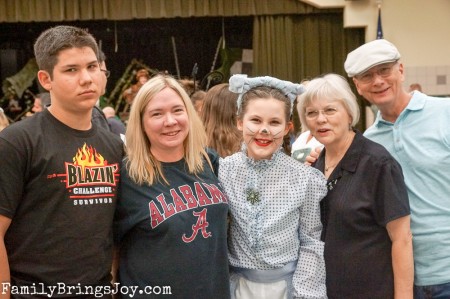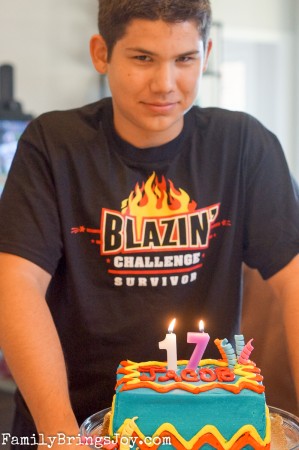 However, Saturday happened to be my Mom's Birthday!  We used this opportunity to hold a party of sorts for both her and my Son who turned 17 last week.  It was casual. We had BBQ, cake and watched both the Texas Rangers & Alabama (my Mom went to Alabama for 2 years) games.
Funny story
My Daughter had to leave the party early Saturday to prepare for the play.  She didn't see the gifts I bought for her Grandmother.  Here's a conversation I had with my Daughter on the way home from school yesterday:
Me: "I received a text from Grandmother today.  She said she is loving her new Taylor Swift CD."
Her: "You gave her a Taylor Swift CD?"
Me: "Yes, 1989."
Her: "Why?"
Me: "She likes Taylor Swift.  I found out since she has been visiting she didn't have a copy, so I thought it would be the perfect gift! Why do you sound surprised?"
Her: "Because, I thought she liked old people music."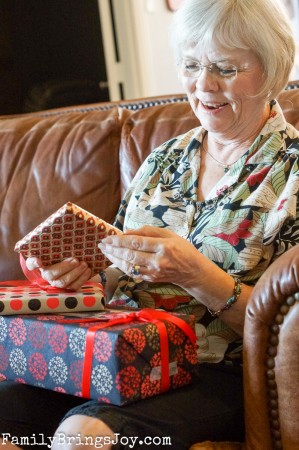 We then had a discussion about how my mom likes all kinds of music.  It was a good teaching opportunity for me to explain how music isn't generational. Personally, I really love it when an album can be listened and enjoyed by several generations.  I believe Taylor Swift's 1989 does just that.  I believe the only other CD I have gifted as much as 1989 would be Mindy Gledhill's Winter Moon & Anchor albums.
Despite the couple of bad words in Taylor's 1989, it is a remarkable album with up tempo and slow songs for every kind of mood.  Plus, every time I hear about the amount of money she gives to someone in need, I don't mind spending the money on her album.  She earned every penny with her excellent lyrics. I'm happy to support an artist who appears to be a genuine person in spite of her fame.  Keep up the good work Taylor!  Our family is enjoying your music.

Oh blog, how I've missed you.
Music Brings Joy,