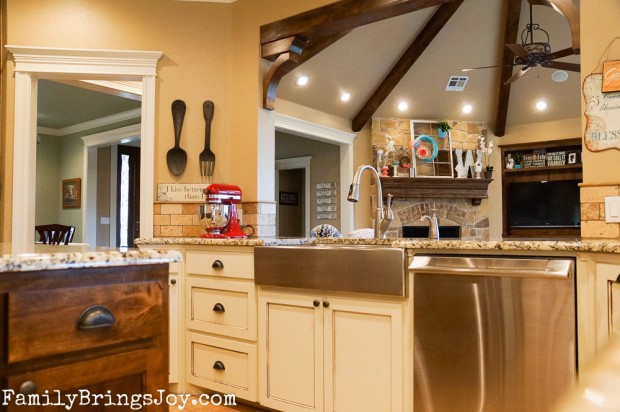 I'm happy to be documenting our kitchen this week.  I'm glad you've been following along with me.
Quick Update
The hubster came home from work yesterday and told me someone at his office had been reading my blog.  I love that!  Thank you! However, the reason they brought it up was because they read on here about our moving back to Texas.  For those who are new here, our family currently lives in Oklahoma and we are moving back to the state we grew up in, Texas.  You can read more about that by clicking here.  Anyway, I failed to mention hubby will not be leaving his job here. (everyone exhale)  He is going to commute to work.  We are only moving about 2 hours away in North Texas.  Hubby loves his practice he's developed over the last 7 years here.  So those of you who live in our little town, he will still be working here.

  Please continue to follow along with our family here on Family Brings Joy.  I love having local readers.  Be sure to follow Family Brings Joy on Facebook to see all the latest posts.  Unless the house sells sooner, we won't be moving until the end of July.
Back to special features of our kitchen:
The first 3 pictures on here are some different angled shots I haven't previously shared.  In the above photo you can see our stainless steel apron sink.
The following photo was taken in the living room looking into the kitchen.  You can see part of the breakfast room to the left.  The stairs going up to the craft room and tween suite are behind the wall with the fridge and stove top.  The alcove you see at the end with the computer and cork board (where I currently am) is what I refer to as Command Central.  This is where I pay bills, keep all the necessary items needed for me to be a Family Manager.  It has a desk, filing cabinet and lots of storage.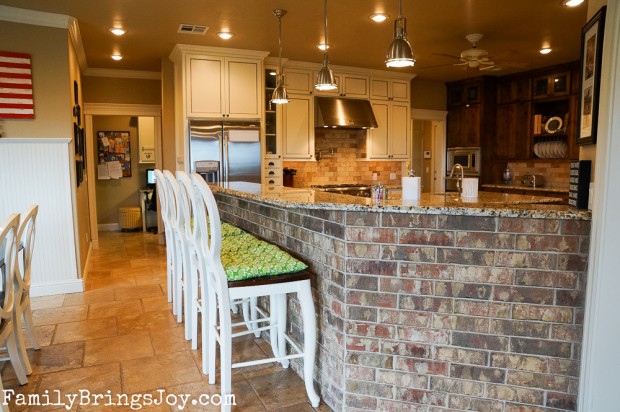 The photo below was taken again in the living room looking into the kitchen.  I like the look of the brick we used for the walls of the bar and the wall dividing the kitchen from the living room.  Since our living room is octagon shaped and I can't hold a camera level (sorry) it looks a little tilted.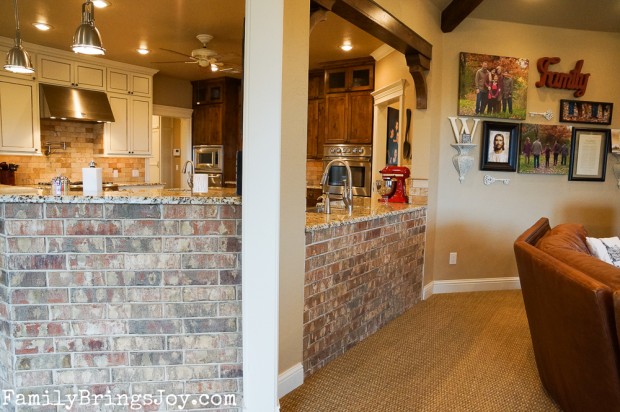 Below shows how we chose a few cabinets to have glass panes to break up the monotony of wood.  I think it is pleasing to the eye and I like showcasing special pieces like this cake stand Uncle M. gave to our oldest daughter.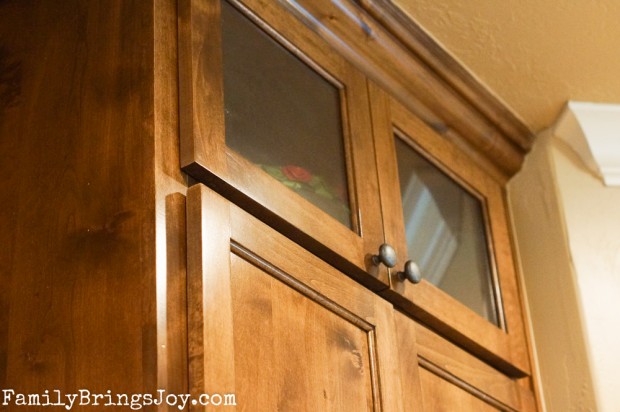 I always wanted vegetable drawers.  They keep our potatoes, onions and garlic fresh for a long time.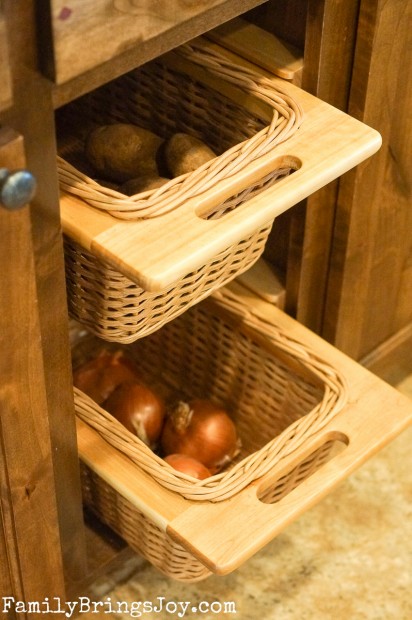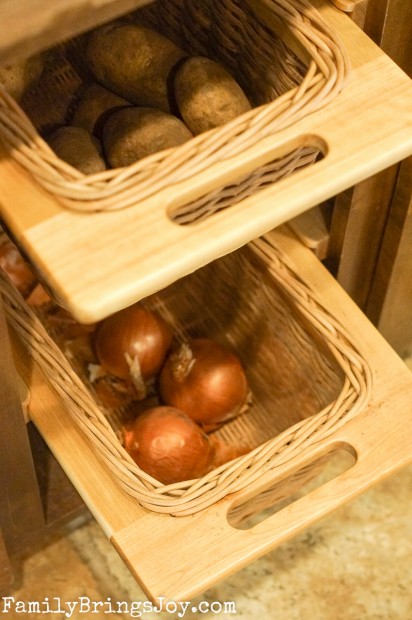 Hubby wanted a pot filler.  Honestly, I didn't know what a pot filler was before we built this house.  It is handy to fill up a huge pot of water for pasta or soup.  It is like an accordion and swivels around to reach the pot you want to fill.  It is definitely NOT a necessity, but remember, I told you we were building our dream home.  A pot filler was part of chef hubby's dream kitchen.  The stove is a Kenmore Pro gas stove.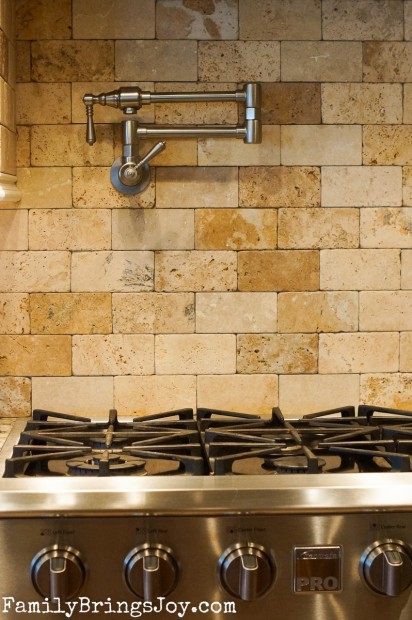 One of my favorite parts of the design in our kitchen are the following pedant lamps.  I purchased these at Restoration Hardware.  I think they blend with the space beautifully and add extra lighting to the bar area.  As you can tell, I like a LOT of light.  I think we counted almost 200 recessed light bulbs throughout the house.  Yet, I especially love natural light the most.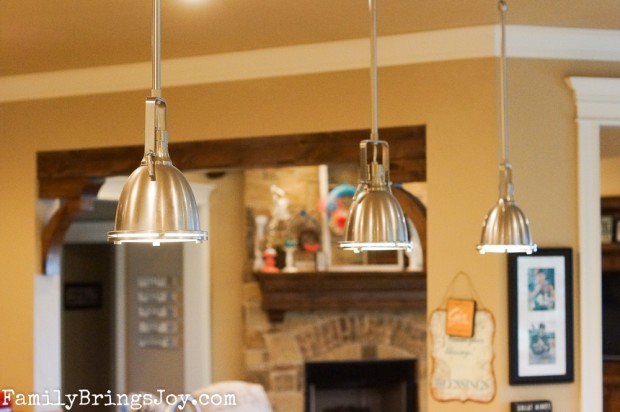 In the last picture below it shows part of the cabinet design with long narrow shelving and a glass door to showcase items.  Those polka dot bowls (Pier One) are my favorite.  I honestly had no idea what I would house in those 3 small drawers.  However, they are perfect for our left over fast food condiment packs.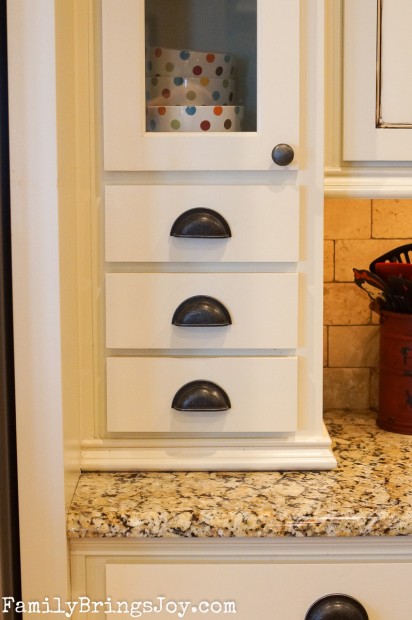 That's all folks for today.  See you tomorrow!
Good design brings joy,