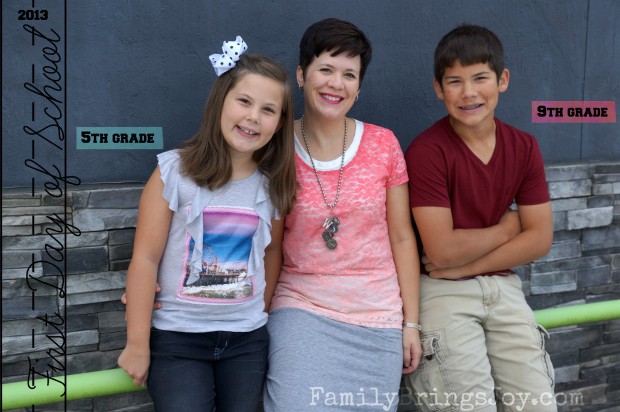 Our family tradition on the first day of school is taking the kids to the doughnut shop for breakfast.  Today is my 5th & 9th grader's first day of school.  So here we are outside the doughnut shop.  I'm grateful my oldest could take this photo of us together.  Interesting tidbit…my 5th grader will be having 5th grade at a local college in town.  A water pipe busted yesterday at her school and it flooded. 🙁  Fortunately, they are still having classes.  A, my youngest, was teasing my oldest daughter saying, "I'm going to college before you!"  It is quite funny because it's sort of true.  K, my oldest, will be headed to college in 4 weeks.  The countdown has begun!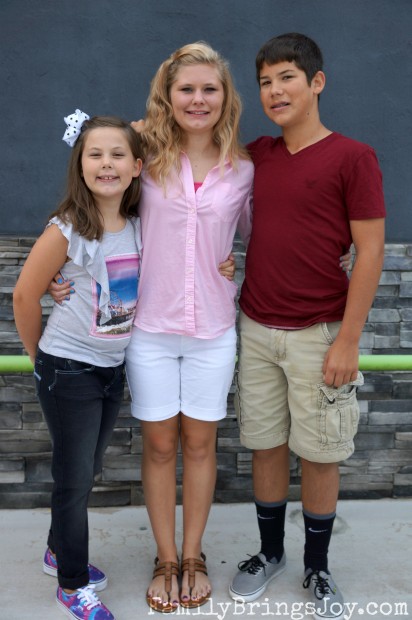 K didn't want to miss out on our family tradition of doughnut breakfast, though.  Here she is with her arm proudly wrapped around her sister and brother.  I think the huge grin on her face is her happiness at knowing she wasn't going to school today.  Or maybe it was the sugar high from her 2 doughnuts?  True story…she is sacked out asleep on the recliner in the living room right now.  That sugar low hit quick.  Doughnuts always do that to me too.  I was a good girl today and didn't eat any doughnuts.  I woke up at 5AM so I could run.  I didn't want to cancel out all my hard work of running 3 miles this morning.  It was a nice cool morning in the 70's so I was able to run all 3 miles without walking.  Yippee!
I want to give a little shout out to one of my oldest daughter's besties who is going to college today.  We love you C and are super excited for you!  We will come and visit before we take K to college.
How about your family?  When do your kids begin school?
I'm determined to finish my over due Haven recap post today and will publish tomorrow.
Have a beautiful day friends!  Thanks again for visiting and you are always welcome to leave comments.  They make my day! 😀
School Brings Joy,