Today I will be showcasing the niches of our kitchen.
I've never had designated spots for vignettes or cook books in previous kitchens.  We worked some shelving into the kitchen design and I believe it adds character.  Also, in the below photo you can see how open our floor plan is.  From this angle you can look through the dining room into the front door/foyer.  You can also see how we cut out the wall to make sort of a window into the living room.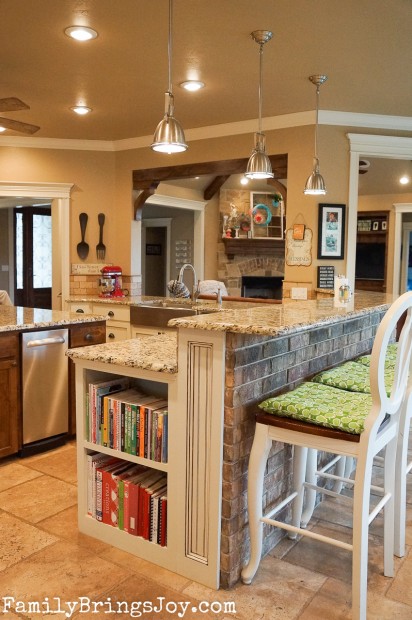 I enjoy the easy access to these cook books when I need them.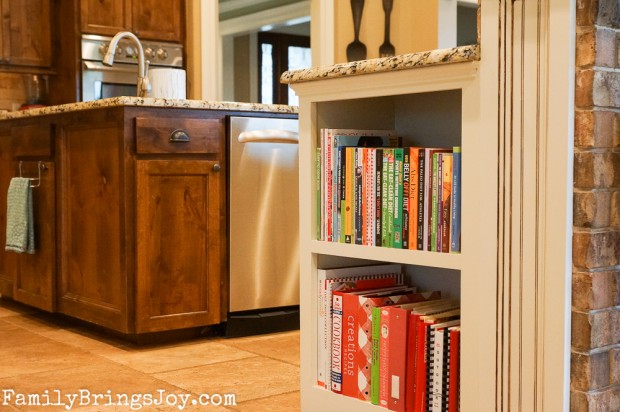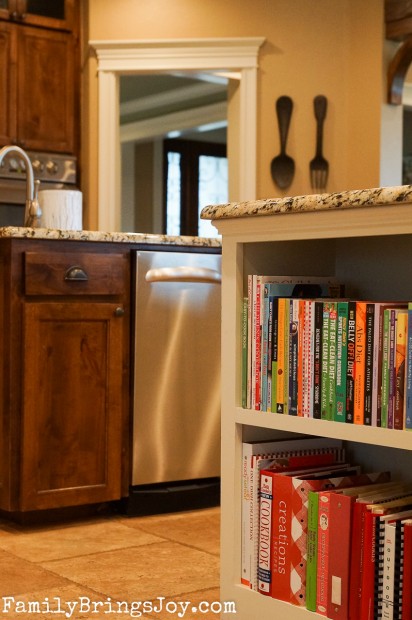 You can also see a better view of our handy dandy trash compactor.  I feel the need to stop and talk a little about trash compactors.
My grandparents installed a trash compactor in their kitchen after a tornado ripped through their house in the 70's.  That is when I was first introduced to a trash compactor.  This appliance has been around for a while now.  Even so, it is interesting how many people come over to our house who have never heard of a trash compactor.
A trash compactor is an appliance that crushes and compresses trash into small convenient bundles.  It is quite entertaining watching people as they try and figure out how to open it.  Our trash compactor (Kenmore) opens by stepping on the small black lever at the bottom.  This is nice if you have trash in your hands and can not pull the drawer open while your hands are full.  Some compactor brands need to be opened by pulling with your hand…it depends on the compactor you purchase.
Those who have heard of a compactor or who have used one in the past, don't always have a good opinion of them.  I think most complaints I've heard are due to odor.  OK, here is the deal…if you don't put food in the compactor, it will not smell.  We don't live in the city limits, so our trash pick up only comes ONCE a week.  Having a trash compactor greatly helps with this.  Here is another tip: don't put plastic/glass bottles or cans in the trash compactor.  Those will break the mechanism that does the compacting (learn from our expensive mistake.)  So, yes, basically it helps compact all the paper & cardboard goods.  However, there are plenty of those.  As long as everyone abides by the rules I've mentioned (which are very helpful with recycling), we can go 2-3 weeks before changing our trash compactor bag with no bad odor.  I love that!  I like to think we are helping the environment by compacting our trash too.  I had more trouble with odor in my previous kitchen's regular trash cans than in our trash compactor.  My BFF's kids love the trash compactor.  They said they would never want to move out of our house because they love our trash can.  This made me laugh. 🙂
Below you can see my cook books and Hubby's diet books.  I like the pop of color they add to the kitchen.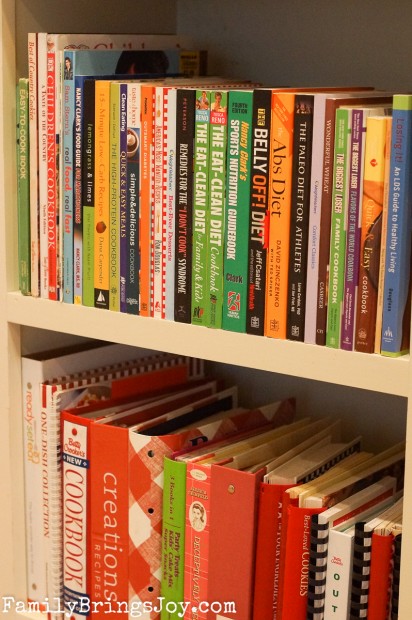 The following isn't a niche but my favorite sign I found at Hobby Lobby.  It's true. 😉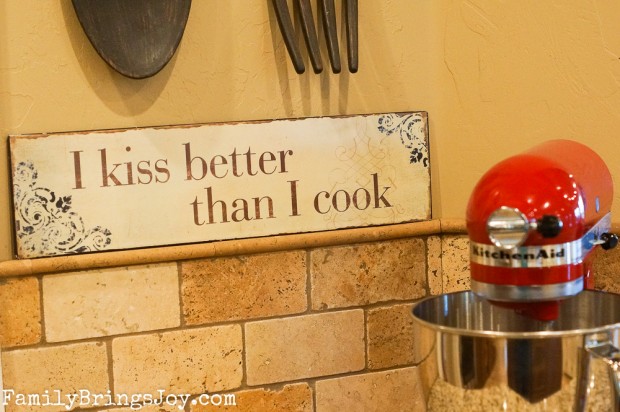 Last but not least is our niche above the plate rack: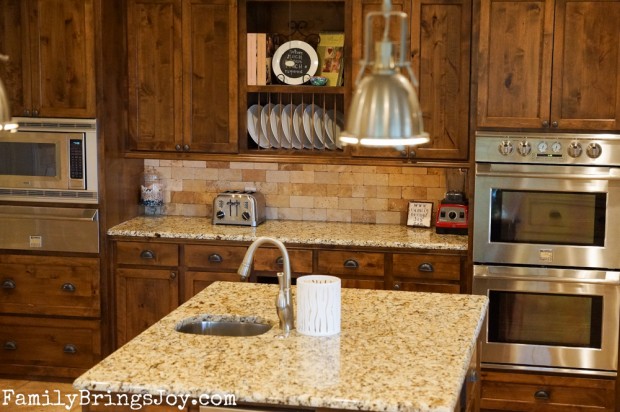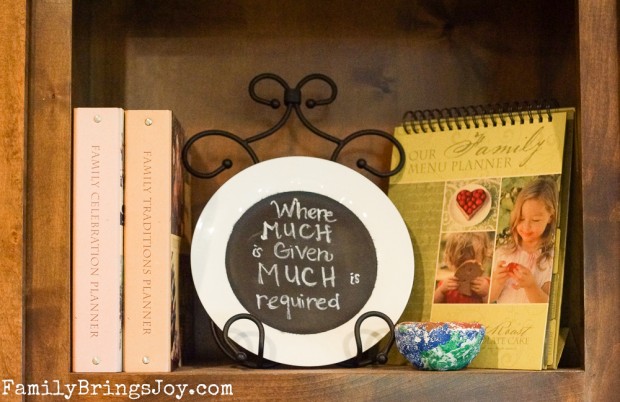 I used chalkboard paint to fill in the middle of this plate and chalked one of my favorite scripture verses.  I believe it is an excellent reminder…especially when I'm cleaning the kitchen.
I hope you are enjoying Kitchen Week so far.  If so, please pin and share this post with your friends and family.  Encouraging comments are always welcome too! 😉  I so appreciate you being here today.  There's more to come tomorrow.  See you then!
Have a beautiful day,